What another crazy, busy week at our house! Didn't have much time to read during the week with cross country meets and lawn work. It's a good thing we road tripped four hours to Kansas City this weekend so I could catch up on a little reading!
One of the things on my son's, daughter's, and my bucket lists were to go to a MLS soccer game. By some odd chance, my college-aged son just happened to hear that soccer legend Landon Donovan would be making his debut return to soccer from retirement this past weekend with the LA Galaxy when they played in Kansas City. Wow! What an opportunity to see the man himself and witness the goal he made in less than thirty seconds upon returning to the field! Awesomeness!
Perhaps the books I read in the car during the trip can't compare to that awesomeness, but they were great in their own right...
First up...
Mrs. Moody in the Birthday Jinx by Megan McDonald
Sometimes I think there is a little Judy Moody in all of us! The perfect transitional series for my struggling 3's and 4's, and so enjoyable for everyone.
Loved...
Mighty Jack by Ben Hatke
This hooked me in from the very beginning! Perhaps I felt a little akin to Jack in the fact that sometimes my lawn, garden, and flower beds seem to take on a life of their own! I've enjoyed everything I've read by Ben Hatke and this did not disappoint. The only disappointment? I have to wait for the next book...Sure to be a crowd pleaser.
VERY Pleasantly surprised by...
Ghosts by Raina Telgemeier
I think this is Telgemeier's best work yet. I must admit I was a little concerned due to the title, as many parents in our small rural community will not see past the title; however, Ghosts is so much more. A perfect book for those that are concerned with wanting/needing more diverse books. Doesn't get any better than this: a character with cystic fibrosis and a family and friends steeped in Dia de Los Muertos traditions.
Truly enjoyed...
Moo by Sharon Creech
I just finished this this afternoon while waiting to pick up my daughter from cross country practice. There were so many times I caught myself chuckling. I know exactly what Reena and Luke were experiencing with that cantankerous cow! Growing up on a farm and being involved in 4-H, I could probably write a multitude of blog posts just about crazy cow adventures! Well-written in respect to how Reena and Luke's view of an elderly, and perhaps cantankerous, lady changes.
Up next...
A Clatter of Jars by Lisa Graff or My Grandmother Asked Me to Tell You She's Sorry by Fredrik Backman (This is this month's book for my book club. Even though I'm not able to go during the school year due to the meeting time, the library ladies insisted I read it so we can talk about it!)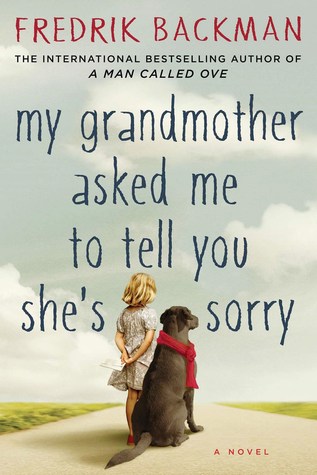 Just hoping for a wee bit of time to read during this upcoming very hectic week!
Until next time,
Jill