I'm so excited to be sharing my very first "It's Monday, What Are You Reading?" post! I have recently had several Twitter conversations regarding picture books for September 11th, so I decided this was the perfect opportunity to get my feet wet in the #IMWAYR world and share what I have read in anticipation of sharing them with my third and fourth graders during this fifteenth anniversary of the terrorist attacks.
We all remember what we were doing at the time of the attacks...
I was teaching 1st/2nd grade in a very small town (population 200 - no city sewers, dirt roads, and the only pavement was our playground) in our rural district. We had no phones in our classrooms and no TVs. We didn't think anything of it when we heard the fighter jets fly over as that was not all that uncommon, as we are ninety miles from Offutt AFB near Omaha, Nebraska. We were totally clueless until our wonderful, grandmotherly type secretary called the staff together at the end of the day and told us what had happened. We then realized we had actually heard the fighter jets that had escorted President Bush. I also distinctly remember all the turmoil of that week, as my daughter was just three months old and my husband and I were to take a business trip to Boston less than a month later. Our daughter is now fifteen...
My students have no understanding of that horrific time in history, except what I can share with them through outstanding books - both picture and chapter. Following are those books I have recently read and will be sharing with my students:
I'm reading this aloud. Oh, so powerful...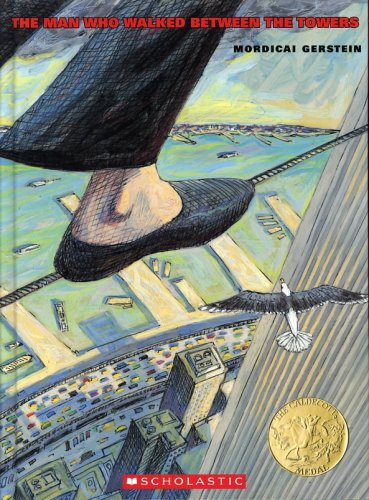 This book is based on the true story of Philipe Petit's walk between the Twin Towers on a tightrope. The illustrations give a great perspective of the Towers and World Trade Center area. This is the first book I came across that even mentioned the terrorist attacks.
Based on the heroic service of a retired New York City fireboat - the John J. Harvey, which was called into action on September 11th.
This is the story of the USS New York, a navy ship whose bow was built from a steel beam that was once in one of the World Trade Towers. Wonderful!
Heartwarming story of two sisters from Africa who had arrived in New York City for a flower show just prior to the attacks. They created a beautiful memorial with the thousands of roses they had brought with them for the show. I borrowed this through interlibrary loan, as it was super expensive to purchase and difficult to find.
Beautiful story of the Maasai tribe of Kenya gifting 14 sacred cows to the American diplomat. Very moving! I also borrowed this book through interlibrary loan.
The fantastic true story of Welles Crowther, the epitome of selfless heroism and bravery.
Wow! Detailed, poignant, heart wrenching...
I read this book and shared/discussed parts with my husband as we drove to Omaha this past weekend. Tons of information from the conception to the building to September 11th. I won't be sharing this with my students, but will make it available for my advanced readers.
I'm still anxiously awaiting for The Survivor Tree on library loan,
but they were unable to find
(
My "school" job would be really difficult without my fabulous public library ladies!)
I'm also waiting for the used copy of
that I ordered online.
This summer I also read nine, ten: I chose not to read this aloud to my students, as I didn't feel it was a good fit for my 3rd/4th graders. Fantastic, middle grade read, however!
When I began my search for books for September 11th, I never imagined my post would become this lengthy. A testament to all the wonderful picture books and chapter books available!